As we ring in the New Year, I can't help but think of sparkling wine and its progenitor: the grape. In fact, while we are on the subject of Champagne and sparkling wines, here are a few "did you know" facts you may find interesting. First, you can make sparkling wines from any grape or fermentable fruit. However, real Champagne only comes from the Champagne region of France. The two major gapes used in making Champagne are Chardonnay and Pinot Noir, while everything else is a sparkling wine. Also, 25% of all sparkling wine sales occur in December, so if you want a good deal, February is a great time to buy!
But enough about Champagne and wine. Let's move on to grapes and some other "did you know" facts:
The average person eats eight pounds of grapes a year.
The Red Globe grape, which is the size of a small plum, is peeled with considerable ceremony and eaten with a fork and knife in Japan.
Grapes do not continue to ripen after they have been harvested.
Grape juice was first made by Dr. Thomas Welch, a prohibitionist who offered it as an alternative to communion wine.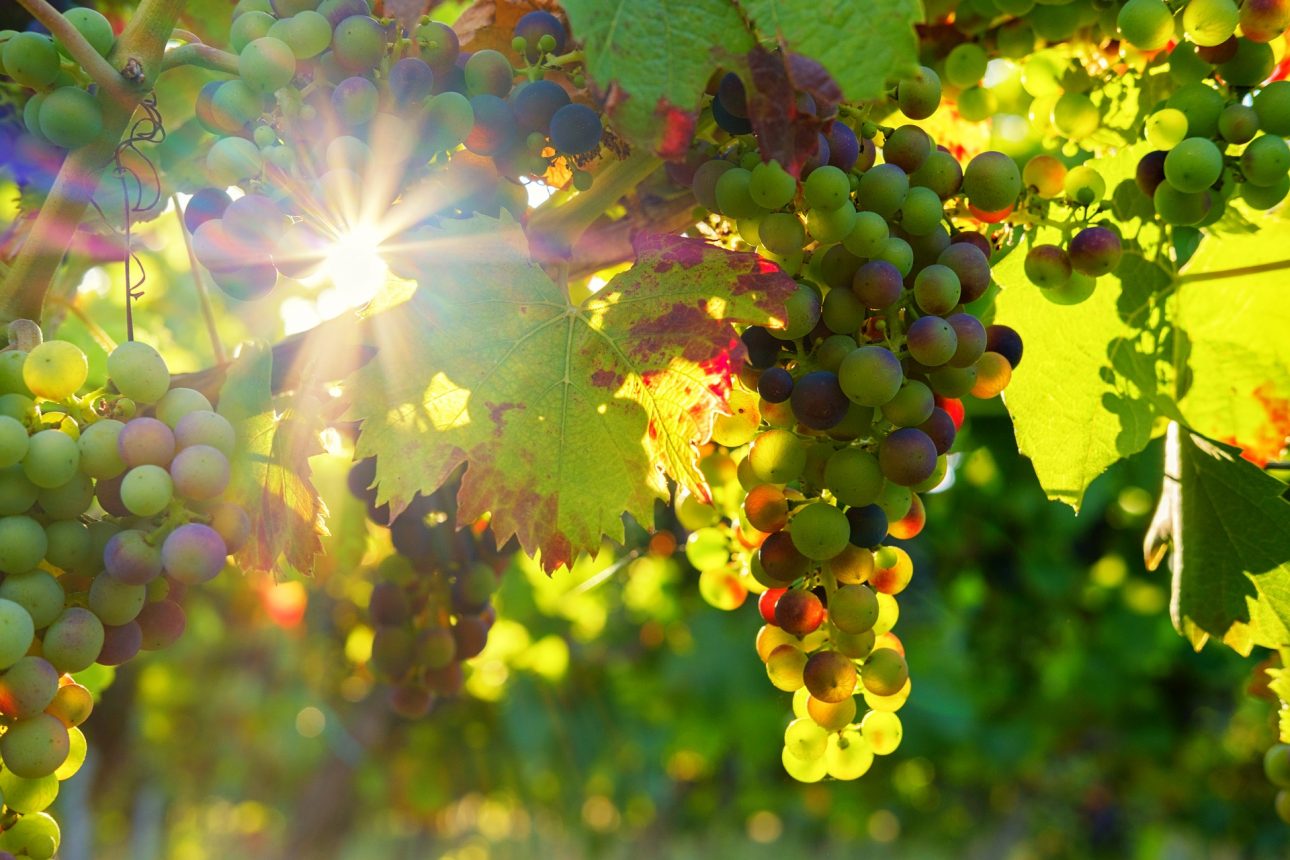 Have you ever wondered how many varieties of grapes exists? The answer might surprise you, as no one knows (and while researching, I found several different answers). The number is somewhere between 8,000 and 10,000 varieties of grapes in the world. Many of these varieties are new hybrids developed through grafting and other methods. Often, certain types of grapes are popular in certain countries.
Grapes are among the oldest cultivated fruits. Fossil evidence indicates grapes were consumed and possibly cultivated as early as 8,000 years ago near the Black and Caspian Seas.  There are two major categories of grapes: Old World European (Vitis vinifera), mostly used for making wine, and New World, (Vitis labrusca), which are native to America and mostly used for eating. While we know Spanish settlers brought Old World grapes to California, we don't know how the New World grapes got here. Grapes have a history in every country and in every civilization from the Egyptians to the Romans and Greeks. In fact, both the Romans and the
Greeks worshiped their own God of Wine, Bacchus in Rome and Dionysus in Greece.
Grapes are one of the most versatile fruits on the planet.  They are great when fermented into adult beverages or made into a juice for kids. They can also be used as a natural sweetener and are a great substitute for refined sugar. A lesser known use is that grapes can substitute yeast as a natural starter for bread production. Grapes are delicious in jellies and jams or included in desserts. They enhance savory dishes, are excellent paired with cheese, and are refreshing when blended in a drink. Grapes can be frozen and eaten as a satisfying, healthy snack or just eaten in their fresh, natural state. Even the leaves can be eaten. If you feel adventurous, look up a few recipes for stuffed grape leaves, which are popular in the Middle East and Greece.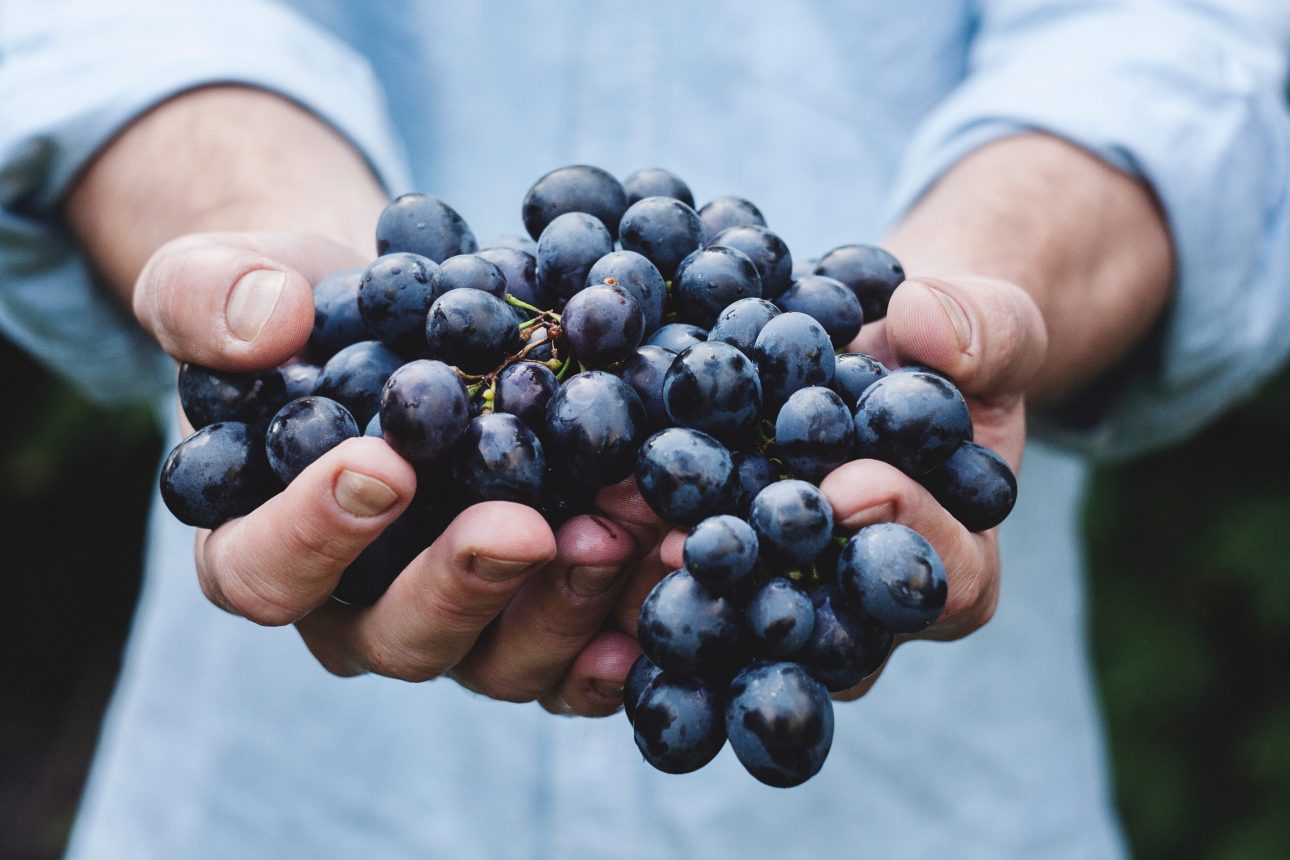 Most people go to a supermarket and buy either green or red grapes.  BORING! – Especially for those of us who live in California where 97% of the US table grapes are grown. Did I mention there are thousands of varieties? Please go explore new varieties and break the green-and-red-grape-only buying habit. Stop picking grapes by color and instead choose them by name, or go out to local farms and explore different varieties. Just to name a few types of grapes there are Perlette, Thompson Seedless (which are found everywhere), Exotic, Flame Seedless, Ribier, Superior Seedless, Ruby Seedless, Emperor, Red Globe, Christmas Rose, Calmeria, and Concord. Every wine grape variety you can think of, from Chardonnay to Zinfandel, are all delicious to eat fresh as well.
Fresh grapes are not just delicious but also very healthy, containing natural sugars and essential nutrients. The most important nutrient in grapes is Vitamin C. Depending on the variety, ten grapes have approximately 5 mgs of Vitamin C.  Also, grape skins, pulp, and seeds contain the antioxidant flavonoid resveratrol, one of the naturally occurring compounds in wines appears to lower cholesterol levels and reduce the risk of heart disease. Purple grape juice contains more of this antioxidant than red grape juice, which in turn contains more than white grape juice.
To put it simply, let's celebrate grapes– either in a glass, by the handful, or from a box of raisins.  Here is a recipe to get you started!

Spicy Grape Chutney
– Serves 4-6 –
(Great served with chicken or fish.)
Ingredients:
1 Cup Green Seedless Grapes (sliced)
1 Cup Red Grapes (sliced)
1 Cup Black Seedless Grapes (sliced)
1 TBSP Vegetable Oil
1 Dried Chili Pepper
1/8 TSP Cumin Seeds
1/8 TSP Mustard Seeds
1/8 TSP Fennel Seeds
1/8 TSP Caraway Seeds
1/8 TSP Fresh Medium Ground Pepper
1 TSP Finely Minced Ginger
2 TBSP Lemon Juice
1 Cup Water
¼ Cup Agave
½ TSP Salt
Directions:
In a nonstick sauce pan on medium heat, add vegetable oil.
Add all the dry spices and the ginger to the pan and sauté for about one minute, stirring continuously so that the spices do not burn.
Add all other ingredients, bring the mixture to a boil, stirring occasionally. Reduce the heat to simmer and continue cooking for 15-20 minutes, stirring frequently until the sauce thickens.
Set aside to cool and store covered in the refrigerator for up to 2 weeks.
Al Ferrone is the senior director of Food & Beverage at UCLA Housing & Hospitality Services. With extensive years of food and beverage/hotel experience, Al Ferrone manages all areas of F&B for UCLA including Dining Services, Lake Arrowhead Conference Center, the UCLA Meyer & Renee Luskin Conference Center, and UCLA Catering.  Prior to UCLA as the Vice President of Food & Beverage, he played a significant role in the guidance of hotel and F&B strategies at Caesars Entertainment Corporation, Hilton, and Interstate Hotels Corporation. He has worked with a wide-ranging family of hotel and casino brands.  He also developed and independently managed the Hilton Restaurant Group, which consisted of freestanding restaurants with over eight concepts.
https://eatwell.healthy.ucla.edu/wp-content/uploads/sites/2/2019/01/grapes-in-sun.jpg
640
960
uclahci
https://eatwell.healthy.ucla.edu/wp-content/uploads/sites/2/2020/10/EatWell-white-background.png
uclahci
2019-01-16 11:13:10
2019-01-16 11:13:10
Did You Know: Versatile Grapes