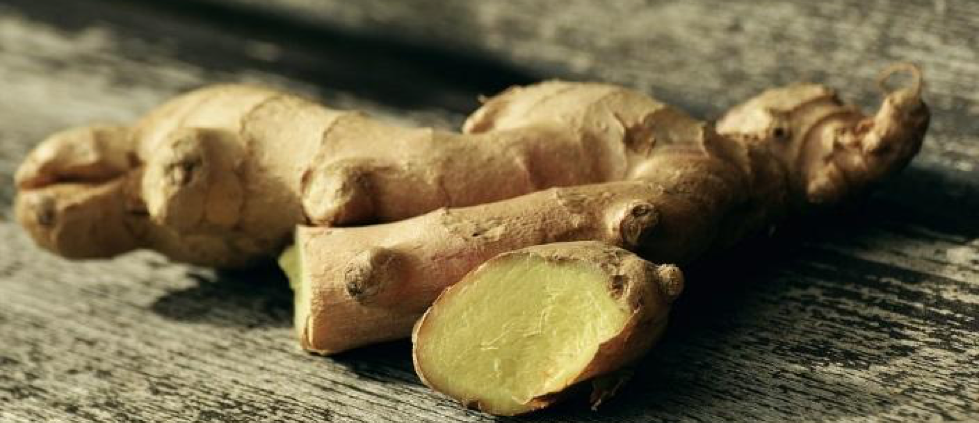 Did you know: Ginger, A Spice for the Season
Given we are now in December and looking forward to festivities the season brings regardless of religious or political beliefs, many of us can agree that ginger is a key spice of this time of year. The smell and taste of ginger create lingering memories. Whether found in gingerbread houses, ginger snaps, candies, or added to favorite beverages, most people enjoy this ancient spice.
Zingiber officinale is a rhizome from the Zingiberaceae family. When we think of ginger, most of us think of the Jamaican type, which is of the highest quality, which despite its name is cultivated in China, Japan, Indonesia, Australia, Sierra Leone, Nigeria, and the West Indies. So widely used in all cultures, I am pressed to name a cuisine that doesn't include it.
This ancient spice has been documented in 3000 BC in the early Chinese writing of Shen Nung, the Father of Chinese medicine.  He claimed the consumption of ginger "eliminates body order and puts a person in touch with the spiritual realm." It is also found in the writing of Confucius as early as 500 BC. The name goes back to Sanskrit, sringavera, and was probably used in India as far back as 3,000 years ago. The original homeland of ginger is still uncertain as it no longer grows wild, but Southeast Asia is the most probable location. Lore has it that as early as 77AD Dioscorides, the Greco-Roman "surgeon general" of emperors Claudius and Nero, declared in his book De Materia Medica that ginger not only would warm and soften the stomach, but was also an excellent broad-spectrum antidote. Ginger made its way to Europe through the usual routes of the spice trade, one of them established by Marco Polo. It then made its way to the New World through European settlers.
Ginger is a mild stimulant that promotes circulation. It is used medicinally to aid digestion, decrease nausea, treat morning sickness, and enhance the immune system. It is also used as a topical skin treatment to reduce irritation and to soothe a sore throat from colds and influenzas. Now I must say, I am not a doctor nor do I play one on television, so I cannot confirm that all of the associated medical claims and benefits work or are effective. But what I do know is that ginger is delicious and can enhance the flavor of most recipes.  Whether you are making a soup, roasting meats, grilling fish, spicing up a vegetable stir-fry, brewing a beverage, or whipping up your favorite dessert, you can't go wrong with adding ginger.
 
GINGER COOKIES
– MAKES ABOUT 60 COOKIES –
In a bowl, stir together the flour, baking soda, ginger, cinnamon, allspice, salt, and pepper. Set aside.
Combine ½ cup of the granulated sugar, the brown sugar, and the butter in the bowl of a stand mixer fitted with the paddle attachment and beat on medium speed until smooth, about 1 minute.  Add the egg and beat until mixed, then beat in the molasses until blended. Reduce the speed to low, add the dry ingredients, and mix until incorporated.  Refrigerate the dough for 30 minutes.
Preheat the oven to 325°F. Line 2 baking sheets with parchment paper.
Spread the remaining ¼ cup granulated sugar in a small, shallow bowl. To shape each cookie, using a small spoon or ice-cream scoop, scoop up a spoonful of the dough and roll between your palms into a ¾-inch ball.  As the balls are formed, roll them in the sugar, coating evenly, and then place on the prepared baking sheets, spacing them 2 to 3 inches apart. Flatten the balls slightly with 2 fingers.
Bake until golden brown and set around the edges but still soft inside, about 12 minutes. At the midway point, switch the baking sheets between the racks and rotate them 180 degrees to ensure even baking. Let cool on the baking sheets to room temperature.
PLANNING AHEAD
The dough may be made up to a week in advance and kept in the refrigerator. The cookies may be baked a day ahead. Store in an airtight container at room temperature.
(Recipe from Classic Stars Desserts; Favorite Recipes by Emily Luchetti)
Al Ferrone is the senior director of Food & Beverage at UCLA Housing & Hospitality Services. With extensive years of food and beverage/hotel experience, Al Ferrone manages all areas of F&B for UCLA including Dining Services, Lake Arrowhead Conference Center, the UCLA Meyer & Renee Luskin Conference Center, and UCLA Catering.  Prior to UCLA as the Vice President of Food & Beverage, he played a significant role in the guidance of hotel and F&B strategies at Caesars Entertainment Corporation, Hilton, and Interstate Hotels Corporation. He has worked with a wide-ranging family of hotel and casino brands.  He also developed and independently managed the Hilton Restaurant Group, which consisted of freestanding restaurants with over eight concepts.
https://eatwell.healthy.ucla.edu/wp-content/uploads/sites/2/2018/12/Ginger.png
525
979
uclahci
https://eatwell.healthy.ucla.edu/wp-content/uploads/sites/2/2020/10/EatWell-white-background.png
uclahci
2018-12-13 16:15:08
2018-12-13 16:18:20
Did you know: Ginger, A Spice for the Season