Any person who eats at Bruin Plate for the first time is immediately aware that this is no regular college dining hall. The menu reads like one you might find at a 5-star restaurant, with dishes like "Rosemary, Gorgonzola, & Roasted Grape Flatbread", and a variety of ingredients completely foreign to typical dining hall cuisine, from wheat berry, to jicama, to seitan. The aptly named residential restaurant sets itself apart from other college dining options and represents potentially the first dining hall in the country in which all menu items are made from scratch, with a focus on health, sustainability, and flavor.
At just under five years old, Bruin Plate has already established itself as a distinguished dining hall, with awards including the FM Best Concept Award for Best Menu in 2012 and a four-star Certified Green Restaurant designation in 2017, making it the third dining hall in the nation to receive the highest award given by the Green Restaurant Association. It also boasts a rating of five stars on Yelp, and contributes to the rating of UCLA dining halls as best in the nation for the past two consecutive years.
Maddie Cashel, a sophomore, endorses the restaurant,  "I love healthy options right at your fingertips. I love eating healthy food that's not just salad, and [Bruin Plate] has so many vegetable options with protein that you don't find at other dining halls." Those who often choose Bruin Plate over other dining halls share this sentiment that healthy eating should be both easy and interesting– there exists more nutritious food than uninspired salads and flavorless steamed vegetables.
Limited Time at Bruin Plate
Students savor the taste of Bruin Plate for as long as they live on the Hill, but the difficulty lies in the fact that this usually lasts only a year or two. Students tend to move into apartments off-campus for their third or fourth years as undergraduate students, where they must either begin to cook for themselves, or rack up charges by ordering take-out for every meal. In both cases, these meals are often much less nutritious and less sustainable than their Bruin Plate counterparts. One student planning to live off the Hill next year laments, "What am I going to do without the salad bar and the chocolate peanut butter?"  Other Bruin Plate fans, such as staff and faculty, may hear much about the award-winning cuisine but comprise a miniscule percentage of people who actually eat at the dining hall on a regular basis.
The Bruin Plate Cookbook, released only a few weeks ago, aims to solve these problems. Pete Angelis, Assistant Vice Chancellor of UCLA Housing & Hospitality Services, endorses the motive behind the cookbook, "the Bruin Plate cookbook is the culmination of Housing & Hospitality Services' efforts to make the healthy choice, the easy choice, for our students, staff and faculty. We are pleased to be able to share these nutritious AND delicious recipes with others through the publication of the Bruin Plate recipes in the cookbook."The message is clear: anyone who enjoys healthy, delicious cooking with a side of environmental stewardship can benefit from the cookbook.
Over 200 Pages of Recipes
The cookbook highlights not only dishes actually served at Bruin Plate, but also dishes inspired by the residential restaurant that don't often make it onto the menu, such as Fresh Fig, Feta, and Jalapeño Salad1 and Aromatic Spiced Chicken with Snap Peas and Forbidden Rice2. Each recipe was scaled down by Bruin Plate chefs, from portions to feed hundreds to portions to feed only one or two hungry mouths. Each recipe also includes nutritional information per serving.
Two sample recipes, taken directly from the cookbook, are pictured below.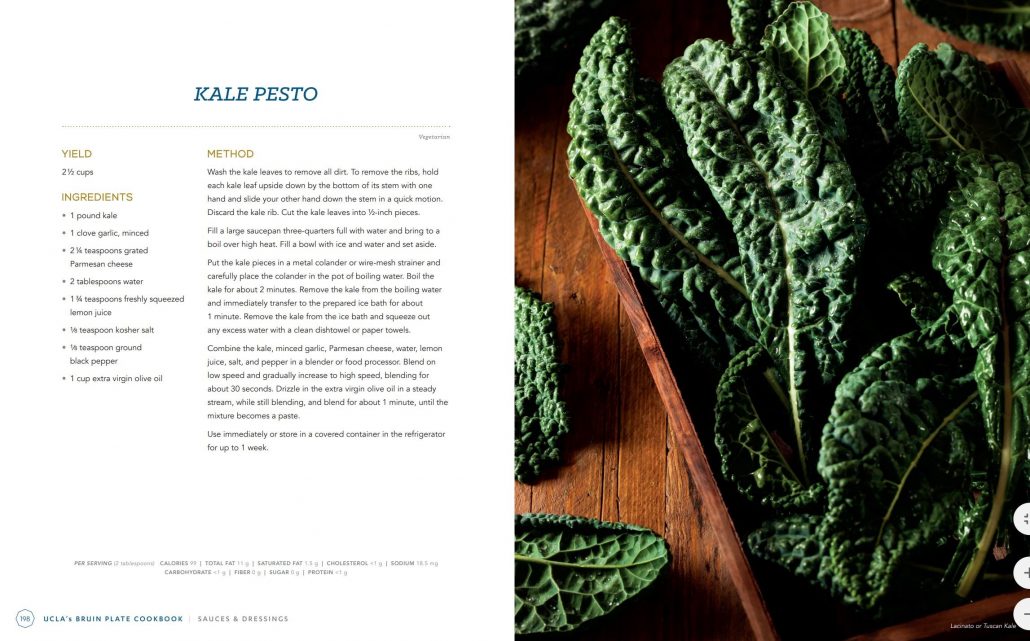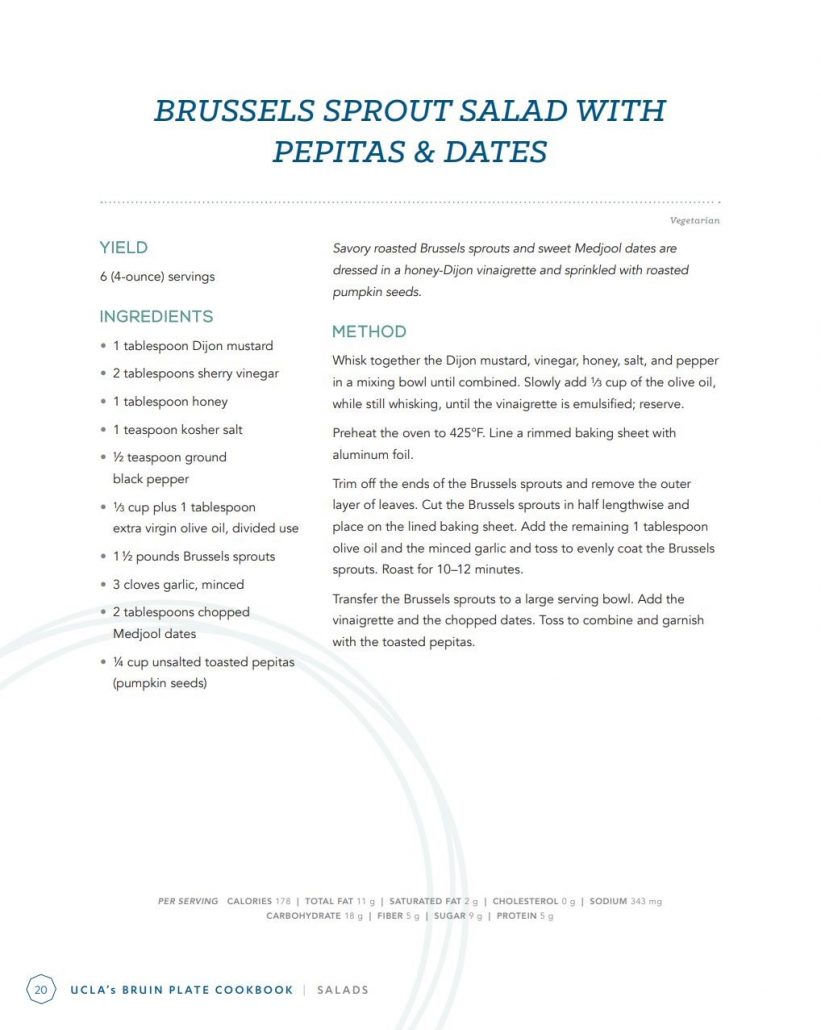 The cookbook is now sold at the UCLA Store for $34.95, with an additional 30% discount for UCLA students, staff and faculty when UCLA ID is shown. With this discount, the cost reduces to less than $0.20 per recipe.
All proceeds from the book sales support the elimination of food insecurity for UCLA students and for the Los Angeles community through the Semel HCI Center at UCLA and the UCLA Basic Needs Committee. Here's to Bruin Plate dining, now accessible to anyone! For more information about how to support food insecure students at UCLA and/or to access resources please click here.
Those seeking cheaper ways to eat nutritiously off campus can find resources in other EatWell blog posts:
To register for Imperfect Produce deliveries: https://www.imperfectproduce.com/join
Patience Olsen is an undergraduate student at UCLA majoring in Civil Engineering. In addition to blogging for the EatWell Pod, she volunteers at the Mildred E. Mathias Botanical Garden on campus, and is a member of the ASCE Environmental Design project.
https://eatwell.healthy.ucla.edu/wp-content/uploads/sites/2/2018/10/BPlate-1.jpg
1576
1048
uclahci
https://eatwell.healthy.ucla.edu/wp-content/uploads/sites/2/2020/10/EatWell-white-background.png
uclahci
2018-10-31 10:43:00
2018-11-15 16:01:37
Bruin Plate Dining in the Comfort of your own Home