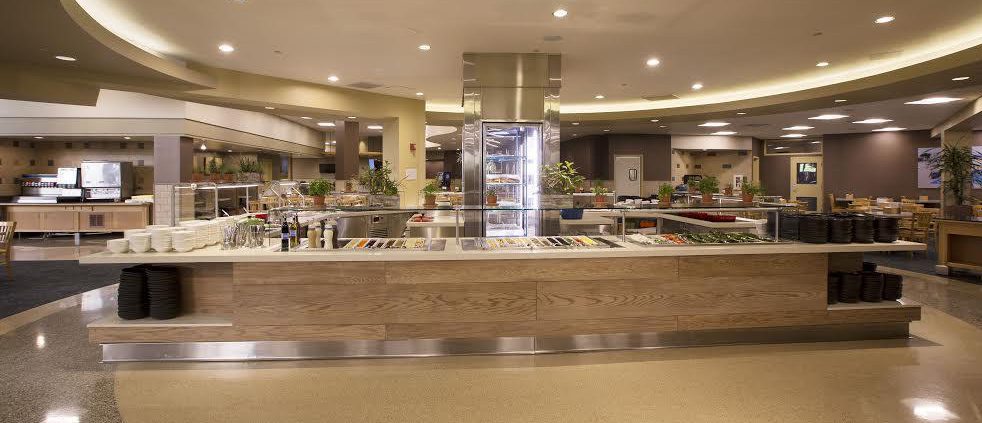 The De Neve Flex Bar: Shifting from Animal-based to Plant-based Protein
The De Neve Flex Bar is at the forefront of the UCLA Dining Services' new initiative of moving from animal to plant-based proteins. The triangle-shaped Flex Bar at De Neve Dining commons opened at the beginning of UCLA's academic winter quarter in 2017 and its popularity has continuously grown. Peter Angelis, Assistant Vice Chancellor of UCLA Housing & Hospitality Center, came up with this idea about a year ago and with the help of Al Ferrone, Senior Director of UCLA Food and Beverage, and the rest of the Healthy Campus Initiative Team, the project has been implemented and has already seen much success. All of the dishes, over 12 different salads in total, have plant-based proteins as the main ingredient with animal-based proteins as the "condiment."
De Neve dining commons has long been thought of as the "classic dining hall," serving American foods such as hamburgers, hot dogs, and pizza every day of the week. The goal of the Flex Bar as Dr. Cowgill, of the Department of Health Policy and Management, says is to "ultimately make the healthy option the default option." Having tried the new Flex Bar at De Neve a few weeks ago, I found all the different salads delicious and refreshing, and was left wanting more! Just reading the names peaked my interest: "Charred Cruciferous Salad with Cotija & Almonds," or "Ecuadorian Chicken & Vegetable Pasta Salad," or "Kale, Spicy Lentil, Quinoa, Date & Almond Salad." I found myself getting full from many of these different salads and not having to go for that extra slice of pizza or that unneeded hamburger.
It is these salads that I would normally find myself ordering at a nice restaurant out in Los Angeles, but to think that I could just get it on campus in a dining hall really attests to why UCLA has some of the best college dining hall foods in the United States.
UCLA Dining is not just simply providing food for hungry students, they are constantly looking for ways to implement healthier foods that students actually like. For example, Mr. Ferrone mentioned how a significant portion of the high salt and high sodium content in De Neve was removed without sacrificing taste or interest from the student's perspective. However, like any scientific experiment, we need evidence to prove whether these types of changes in UCLA Dining are having an impact. Through UCLA Healthy Campus Initiative's Research Well Pod, Dr. May Wang of the Department of Community Health Sciences, Dr. Burt Cowgill, and many graduate students are the hidden data detectives of this initiative, helping us discover whether the Flex Bar is having an impact. With their help, we will soon be able to tell if this idea is generally changing student's protein consumption from animal-based to plant-based foods in De Neve.
Categorizing De Neve's dining menu into meat and plant based-proteins was a necessary first step to allow them to analyze changing consumption. An initial survey of almost 500 students, using a food questionnaire designed by public health graduate students, was then issued to gather information on a variety of different student consumption patterns, including how students were consuming protein and specifically how much came from animals versus plants. Dr. Wang and a few graduate students were also able to recruit excited undergraduate students to assist with gathering additional data using a 3-day food diary to validate the food questionnaire. This aspect of the study adds rigor to the research methods used to gain insights into protein consumption patterns among students.
After a few months of the Flex Bar being implemented, the goal is to collect a follow up survey that will allow them to compare their baseline survey and food study data. The hope from this initiative is to see an increase in the acceptability factor (i.e. popularity) and 'take rate' of Flex Bar salads. Looking at the purchasing/consumption in 2016 and comparing it to 2017 patterns, the expectation is to see a shift in the purchasing patterns from animal-based to more plant-based proteins like legumes, quinoa, and broccoli for example. Who knows, maybe this type of salad bar will eventually be implemented in the other dining halls!
Mr. Ferrone mentions that the idea of a triangular salad bar is important because "it never ends" and ideally "students will fill their plates and won't need to get other food." (I can personally confirm this). It is this never ending salad bar that reminds me of our continual and everlasting pursuit towards healthier eating. There is always something that we can do to make our lifestyles healthier and I think the first step that we all can take is to go try the new Flex Bar at De Neve dining hall.
Phillip Cox is a 4th year Bioengineering major and blogger for the Eat Well Pod within the Healthy Campus Initiative.
https://eatwell.healthy.ucla.edu/wp-content/uploads/sites/2/2017/05/image3-e1494431125757.jpeg
441
982
uclahealthycampusinitiative
https://eatwell.healthy.ucla.edu/wp-content/uploads/sites/2/2020/10/EatWell-white-background.png
uclahealthycampusinitiative
2017-05-10 15:46:13
2017-05-10 15:46:13
The De Neve Flex Bar: Shifting from Animal-based to Plant-based Protein